YOUR BUSINESS, BUT BETTER.
Simple, scalable, sophisticated POS systems for retail stores, kiosks – and more.
INVALUABLE BUSINESS INSIGHTS
EMPLOYEE MOTIVATION TOOLS
WE WORK WITH BUSINESSES LIKE YOURS.
The type searching for more growth, more productivity, more efficiency, and access to a simple POS software for retail.
SOLUTIONS FOR THE MODERN BUSINESS
See what's happening – and where. Look at how your team is performing, from anywhere. Bring each touchpoint under one virtual roof. From small kiosks to nationwide stores, there's room for you at Nova.
And easy to use, too. This means you can manage your contactless payments, inventory, employee stats, card swipes, and customer data, all in one place.
ANY PAYMENT METHOD, ANYWHERE, AT ANY TIME.
Our approach is simple: We'll never make you say 'no' to a paying customer. From ApplePay to card swipes, we're all about keeping up with new technologies, without waving goodbye to tradition.
When we say we're hands-on – we mean it. We're always a call away, ensuring no problem ever gets overlooked, no question goes unanswered, and no team feels unsupported. After all, hassle-free support is our thing.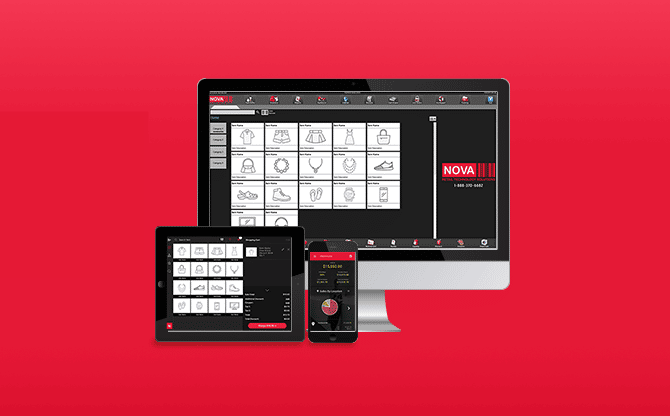 We're all about passing benefits over to you, which starts with your payments. Simply sign up with one of our preferred processing providers and enjoy three months without spending a cent.
We don't believe in guesswork. Instead, we'll ensure you're always first to know, from late employees to pinging you when you've met your daily goals.
We'll make your POS retail software work for you. By integrating our solutions with your own platforms, it's never been easier to keep everything in one place.
What Our Customers Are Saying
"You have a great team at Nova POS. Keep up the good work."
"Nova is by far the best pos system I worked with, easy to navigate, keep track of all your business aspect."
"We managed to increase our revenues on 40% thanks to the competition system."
BY BUSINESS OWNERS, FOR BUSINESS OWNERS.
We don't just know our way around POS systems for retail. We know what your customers want, what your employees need, and what we can do to give you more hours in the day. From kiosks to stores, we've got everything you need – and more.